Indulging in superfoods? Try these supermarket staples instead.
by Matt Hodges
30 December 2015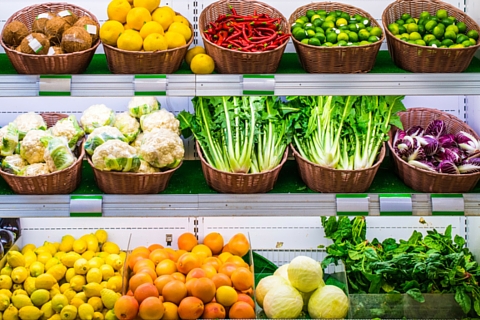 Here at The MPH Method, we acknowledge the power of supplements in supporting health and fitness programmes. Formulated powders and shakes definitely have their place – but it's an educated approach to
all-round
nutrition that is key to promoting personal wellbeing and the very best training results.
The value of consuming easily accessible foods is something that often gets overlooked, in favour of certain 'trends' that take over the market. Superfoods are frequently hailed as diet saviours or workout-boosting miracle workers, but they not exactly easy to get your hands on. The current crop of superfoods hails from the Brazilian rainforest (acai berries), sub-Saharan Africa (baobab and moringa), the south China forests (goji berries) and Tibet (barley grass), so by the time they have been sourced, harvested and exported, the cost really mounts up – and they can be hard to find in local supermarkets.
Here's the good news: your body doesn't need a fancy diet. It's actually really easy to enrich your basic nutrition just by adding a few well-chosen ingredients.
Here are a few supermarket staples that serve as excellent superfood substitutions:
SUPERFOOD: Acai berries
SUPERMARKET STAPLE: Blackberries
The tiny purple acai berries have been shown to reduce the effects of a high fat diet, leading to claims that they are nature's diet pills. And they also contain extremely high levels of vitamin C, B-complex vitamins and vitamin K.
The humble blackberry is just as vitamin-rich as the acai, and they are available year-round in supermarkets, and completely free during 'blackberry season' (August – October) when they grow in hedgerows across the UK.
SUPERFOOD: Barley grass
SUPERMARKET STAPLE: Broccoli
The young green shoots of barley grass are laden with vitamin A, B-complex vitamins, vitamins C, E and K, as well as magnesium, phosphorous, potassium and fibre.
Broccoli is packed full of these same vitamins (plus vitamin D), and it is another great source of potassium and fibre, making it a great substitute for the elusive barley grass.
SUPERFOOD: Moringa
SUPERMARKET STAPLE: All Bran
In India and Africa, moringa has been used as a medicine for thousands of years, due to its ability to improve circulation and aid the digestive system (it can also be used to cure snake bites when applied to the skin).
If you don't happen to live near a moringa tree, you can buy it in powder form, or just choose All Bran instead. The fibrous breakfast cereal is just as good at boosting the digestive system and improving blood flow.
SUPERFOOD: Goji berries
SUPERMARKET STAPLE: Spinach
These Chinese berries contain a huge amount of antioxidants, and can help protect against heart disease by boosting circulation.
Similarly, the naturally high vitamin and iron content in spinach will do great things for your heart and immune system, and it is available just about everywhere!
SUPERFOOD: Baobab
SUPERMARKET STAPLE: Cantaloupe melon
The fruit of the baobab is believed to contain more calcium than milk, and more potassium than bananas, as well as fibre, iron, magnesium and antioxidants.
If you're looking for a more familiar source of antioxidants and electrolytes, try a couple of slices of cantaloupe melon instead.
This article was written by Matt Hodges, you can see all his articles here.