Why Fish can boost your workout
by Matt Hodges
01 October 2015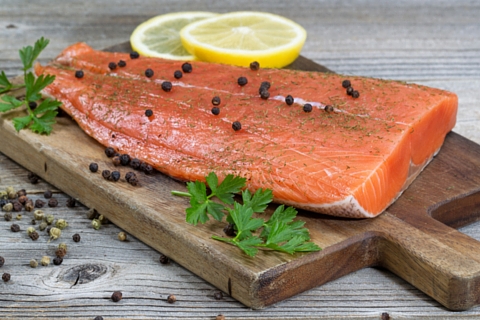 Every year brings a new 'superfood' fad. We are currently in the Age of Kale, but we have also witnessed the Quinoa Years, the Eggwhite Era and Acai Season. While all of these ingredients are undeniably 'super' in their own ways, they are no match for the most enduring superfood of all: fish.
Welcome to our new nutritional series here on The MPH Method blog. Monthly, we'll be pushing a different super food into the spotlight – looking at exactly why it promotes your health and how eating it can really boost your workout results.
The lowdown on fish
For thousands of years, humans have been relying on fish as a lean source of protein, and a filling but low-calorie meal. This makes it one of the best pre and post-workout snacks if you are anxious to build muscle naturally or speed up your recovery time after exercise.
Fish has a plethora of other health benefits as well. New research suggests that regular portions of oily fish can help prevent neurological illnesses such as Alzheimer's, and improve short-term memory (hence its reputation as 'brain food').
Better heart health
Fish is full of Omega-3 fatty acids, which the human body can't naturally produce. However, research has shown that Omega-3 can drastically reduce the fat levels in your blood, helping to avoid congested arteries and promote heart health. The better your heart health is, the better your circulation. The better your circulation…………
Improved circulation
For the same reasons, eating at least two portions of oily fish each week can help to improve your circulation – which in turn helps you to work out harder and bounce back more quickly following a tough workout. Salmon, tuna, mackerel, and sardines have some of the highest levels of Omega-3 fats. Better circulation = bigger, more efficient, leaner muscles!
Improved joint health
Fish oil contains eicosapentaenoic acid (EPA) and docosahexaenoic acid (DHA), which have both been proven to reduce inflammation around the joints and muscles – this is ideal for bodybuilders and weightlifters who are placing a huge strain on their joints every time they work out.
Five healthy, quick and easy fish dinners
Are you getting enough omega-3s in your diet? Fish makes such a healthy meal, but more often than not we're simply not eating enough of it. These quick recipes make it so easy to whip up a tasty, filling meal.
1. Quick and easy salmon with roast potatoes
Oily fish such as salmon is the best type of fish you can eat, due to its high nutritional value. Known as 'brain food', and also delicious, you can't really go wrong when you include it in a meal. Add some delicious roasties, and you're good to go!
2. Shallot and lime-marinated fish tacos
If you're feeling a bit more adventurous, why not try something a little different with these shallot and lime-marinated fish tacos? You can use any white fish fillets, such as cod, sole, catfish, skinless snapper, or tilapia. Simply soak in the marinade before roasting and flaking.
3. Steamed cod with ginger and scallions
If you're a fan of ginger in your cooking sauces, this one's a real winner – even better, it only takes 20 minutes! Try serving with creamy mashed potatoes for a filling, hearty meal.
4. Honey mustard glazed salmon steaks
A firm favourite of chef Jamie Bissonnette's, this soy honey mustard glazed salmon recipe is almost impossible to mess up! It's not only delicious on salmon, but you can also try it on pork chops or chicken wings, too – simply glaze and stick on the grill. Total cooking time is just 25 minutes.
Italy's famous puttanesca sauce includes briny anchovies, olives, and capers, and goes down a treat with swordfish or just about any other kind of fish. Try chopping the garlic, olives and capers while the fish is still cooking, and this dish will literally be on the table in around 15 minutes. Well worth it.
This article was written by Matt Hodges, you can see all his articles here.